THE NORBERT FREEDMAN MEMORIAL LECTURE
HONORING A MAJOR CONTRIBUTOR TO PSYCHOANALYTIC TECHNIQUE
CAROLYN ELLMAN, PHD
THE POWER OF EXCLUSION: A FREUDIAN'S TRIBUTE TO FERENCZI
INTRODUCTION BY SALLY MOSKOWITZ, PHD
OPENING REMARKS BY RHONDA WARD, LCSW
Dr. Carolyn Ellman writes: According to Balint (1968), the "historic event of the disagreement between Freud and Ferenczi acted as a trauma in the analytic world." Ferenczi's papers were hardly published, his own pupils (other than Balint) hardly mentioned him, and his own Clinical Diary (which spelled out his work with traumatized patients) didn't come out until 1995. (His correspondence with Freud came out in three volumes between l993 and 2000). It was "death by silence." Why were the false rumors about Ferenczi's mental health, promulgated by Jones (l957) in his Freud biography, repeated over and over; whereas many boundary violations that occurred with Winnicott were fundamentally ignored (Little, 1990; Hopkins, 2006)? The rest of the world embraced Ferenczi when his work started coming out. Aron and Harris published an excellent book in l993 to welcome Ferenczi's works and in 2008 helped found the Ferenczi Center at the New School. There have been 14 conferences dedicated to his work. Why did other theories claim him (relational, interpersonal, self- psychological, etc.) and yet the Freudians remained silent? Looking at the politics of the 1980's, it was a time of great change in the Freudian world of technique, and yet Ferenczi was not embraced—quite the contrary. He was sacrificed to other groups who distorted many of his writings.  We will look at some of his brilliant contributions to technique, the nature of psychoanalytic identity politics, and the sad power of exclusion which we unfortunately were part of. 
References:
Michael Balint, The Basic Fault, Tavistock, 1968
Ernest Jones, Sigmund Freud: Life and Work, Volume 3, Hogarth, 1957
Margaret Little, Psychotic Anxieties and Containment: A Personal Record of an Analysis with Winnicott, Jason Aronson, 1990
Linda Hopkins, False Self: The Life of Masud Khan, Other Press, 2006
Lewis Aron and Adrienne Harris, The Legacy of Sandor Ferenczi, Routledge, 1993
Suggested Readings:
Carlo Bonomi, "Jones' Allegation of Ferenczi's Mental Deterioration: A Reassessment," International Forum of Psychoanalysis, 7 (4): 201-206, 1998
"Clinical Diary of Sándor Ferenczi", Harvard University Press, 1995
Sándor Ferenczi, "Confusion of the Tongues between the Adults and the Child—(The Language of Tenderness and of Passion), International Journal of Psychoanalysis, 30: 225-230, 1949
Carolyn Ellman, PhD, is training and supervising analyst (fellow) at the Institute for Psychoanalytic Training and Research and the Contemporary Freudian Society. She is an adjunct clinical professor and supervising analyst at the New York University Postdoctoral Program in Psychoanalysis and Psychotherapy. She is the senior editor of The Modern Freudians (1998) and Omnipotent Fantasies and the Vulnerable Self (1997), and co-editor of A New Freudian Synthesis: Clinical Process in the Next Generation (2011) with Andrew Druck, Norbert Freedman and Aaron Thaler. She has written extensively about envy in women.
Learning Objectives:
To conceptualize the important legacy of Ferenczi for Contemporary Freudian psychoanalytic practice.

To formulate some of the historical and political forces that shaped the negative reception by Freudians of Ferenczi's work, versus the reception by other psychoanalytic groups.

To understand the changing world of Contemporary Freudian thought in the 1980's and 1990's, when Ferenczi's work finally appeared.
Sunday, November 7th, 2021 | 10:00am-1:00pm
via Zoom
Tickets
General: $40 includes 3 CE Credits
Candidates & Students: $25 includes 3 CE Credits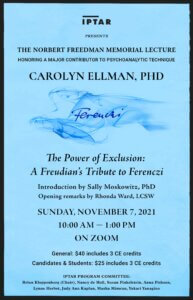 CE Credits for LCSW's, LP's, LCAT's, LMHC's and PSY's. (included in Fee for this event with pre-registration).
REGISTER
You must register on our Memberclick portal to buy tickets. Press the button to be redirected.
CE Credits
The Institute for Psychoanalytic Training and Research (1651 3rd Ave, Suite 205, NY, NY 10128) is recognized by the New York State Education
Department's State Board for Psychology as an approved provider of continuing education for Licensed Psychologists (#PSY-0026), and the State
Board for Social Work as an approved provider of continuing education for Licensed Social Workers (#SW-0226) and the State Board for Mental
Health Practitioners as an approved provider of continuing education for Licensed Psychoanalysts (#P-0011), Licensed Creative Arts Therapists
(#CAT-0037) and Licensed Mental Health Counselors (#MHC-0112). This certificate is not applicable to any other New York State profession.