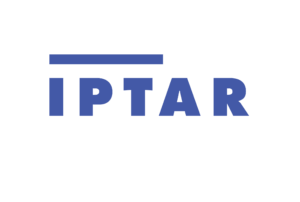 PRESENTS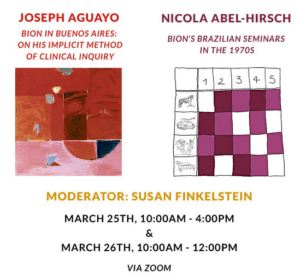 Joseph Aguayo
Bion in Buenos Aires:
On his Implicit Method of Clinical Inquiry
Many analysts interested in the work of W.R. Bion frequently ask: did Bion have an actual technique he used with his analytic patients. This major question of technique has now been addressed in a book-length study in which clinical examples receive direct study and analysis. Starting with his group period, the period of the 1950s when he analyzed psychotic and borderline patients, this paper deals with Bion's mature clinical technique as evinced in a series of clinical lectures he gave in Buenos Aires in 1968.
After presenting Bion's work with a pseudo-agreeable patient—someone who constantly agreed with every interpretation Bion made (to the point of annoyance and distraction on the analyst's part), Joseph Aguayo will present his distillation of Bion's method of practice through an extensive example of a supervised candidate's analytic work with a traumatized incest victim.
Nicola Abel-Hirsch
Bion's Brazilian Seminars in the 1970s
Through the 1970s, Bion conducted over one hundred clinical seminars in Brazil. Many of the seminars were recorded and give access to a breadth of experience in relation to his clinical method. We hear his reflections on different patients and are able to see patterns in his clinical method that emerge across the cases.
In the majority of the seminars, the first thing that Bion says is a question. A few questions are requests for information. However, most often Bion is not looking for an answer, instead he is inviting the presenter (and seminar group) closer in to the material. Then, at the heart of each supervision, we find Bion's formulation regarding the patient's core way of relating, alongside examples of how he would talk to the patient about this.
In his lectures of the same period, Bion comments that doing analysis is a great deal more difficult than talking about it. The clinical seminars provide access to him working clinically – doing supervision – and with some sense of him as an analyst with his patients. This can be invaluable for our own work.
————————————-
Joseph Aguayo, PhD is a Training and Supervising Analyst at the Psychoanalytic Center of California, a Guest Member of the British Psychoanalytical Society. He holds PhDs in both Clinical Psychology and European History from UCLA. He is currently in various stages of completing three book projects: Introducing the Clinical Work of W.R. Bion is due out on the Routledge Bion Series next April, 2023. Later next year, his co-authored book with Bob Hinshelwood, Sira Dermen and Nicola Abel-Hirsch, Bion in the Consulting Room: A Method Clinical Inquiry will also appear. And lastly, Winnicott in America: His Lecture Tours of the United States in the 1960s will be published by Oxford University Press in 2024.
Nicola Abel-Hirsch is the author of Bion 365 Quotes (Routledge 2019) and Introduction to Bion (Phoenix 2023) and the editor of Hanna Segal's last book Yesterday, Today and Tomorrow (2007). She is a training and supervising analyst of the British Psychoanalytical Society and works in full-time psychoanalytical practice. Abel-Hirsch has given theoretical and clinical papers on Bion in the UK; Taiwan (annually 2005-2012); the USA, and Europe. From 2013–2015 she was the visiting professor at the Centre for Psychoanalytic Studies, University of Essex. Under the auspices of Understanding Primitive Mental States NYC she chairs an ongoing series of seminars on Bion's later lectures, seminars and supervisions.
Susan Finkelstein, LCSW is a faculty member and training and supervising analyst at the Institute for Research and Psychoanalytic Training (IPTAR) and the Contemporary Freudian Society, both in NYC. She is an associate editor of the International Journal of Psychoanalysis and the director of Understanding Primitive Mental States, a program of international study groups on Klein, Bion, and the British Independent Tradition. She practices psychoanalysis, psychotherapy, and couples therapy in NYC.
6 CE credits included with all ticket types
General: $125
Candidates & Students: $50
IPTAR Candidates: $40
Learning Objectives:
Participants will gain understanding of Bion's psychoanalytic theory

Participants will gain understanding of Bion's technique through clinical examples

Participants will be able to identify Bion's technique with a wide range of patients, including psychotic and borderline patients
6 CE credits will be granted to participants who have registered, have documented evidence of attendance of the entire program and have completed the on-line evaluation form. Upon completion of the evaluation form a Certificate of Completion will be emailed to all participants who comply with these requirements.
REGISTER
You must register on our Memberclick portal to buy tickets. Press the button to be redirected.
The Institute for Psychoanalytic Training and Research (1651 3rd Ave, Suite 205, NY, NY 10128) is recognized by the New York State Education Department's State Board for Psychology as an approved provider of continuing education for Licensed Psychologists (#PSY-0026), and the State Board for Social Work as an approved provider of continuing education for Licensed Social Workers (#SW-0226) and the State Board for Mental Health Practitioners as an approved provider of continuing education for Licensed Psychoanalysts (#P-0011), Licensed Creative Arts Therapists (#CAT-0037) and Licensed Mental Health Counselors (#MHC-0112). This certificate is not applicable to any other New York State profession.