INTERNATIONAL CONFERENCE 
The Hans W. Loewald Center in Collaboration with the Institute for Psychoanalytic Training and Research and The Western New England Psychoanalytic Institute.
Hans W. Loewald
Quiet revolutionary, creative synthesizer, inspiration for 21st-century psychoanalysis
Among the challenges facing 21st-century psychoanalysis is the task of integrating our various theoretical schools. Hans Loewald is a pioneer of this endeavor.
Loewald's emphasis on the fundamental role of internalization combines object relations, drive theory, self-concepts, and the socio-cultural history of an individual. Throughout his writing, Loewald views mind as an open system and the analytic relationship as an interpsychic experience developmentally grounded in the mother–infant matrix. He conceives of the analyst's task as holding in safe-keeping the image of the individual that he or she can become. In his model of therapeutic action, Loewald understands the analyst's interpretations as conveying not only insight, but also a new object relational experience. The original objects – the ghosts that haunt present day life – are thus gradually transformed into ancestors.
Loewald's ongoing, internal dialogue with Freud and others brought him to his remarkably prescient synthesis. In the same spirit of dialogue, this conference and future Loewald Center events will continue to strive toward a 21st century radically integrative vision for our theoretical and clinical work.
Keynote speakers: Nancy Chodorow and Jonathan Lear
Additional Speakers: Rosemary Balsam, Elizabeth Brett, Chris Christian, Lawrence Friedman, Adrienne Harris, Margery Kalb, Gil Katz, Lawrence Levenson, Seymour Moscovitz, Warren Poland, Doris Silverman, Matthew von Unwerth, Jeanine Vivona
April 30, 2022 | 9:00 am – 5:00 pm
Tickets: $55 – $200
Take Advantage of our early bird rates!
Venue
247 East 82nd St
New York
, NY
10028.
United States
CE Credits Available for LCSW's, LP's, LCAT's and LMHC's
(included in Fee for this event with pre-registration).
REGISTER
Click on the image to enlarge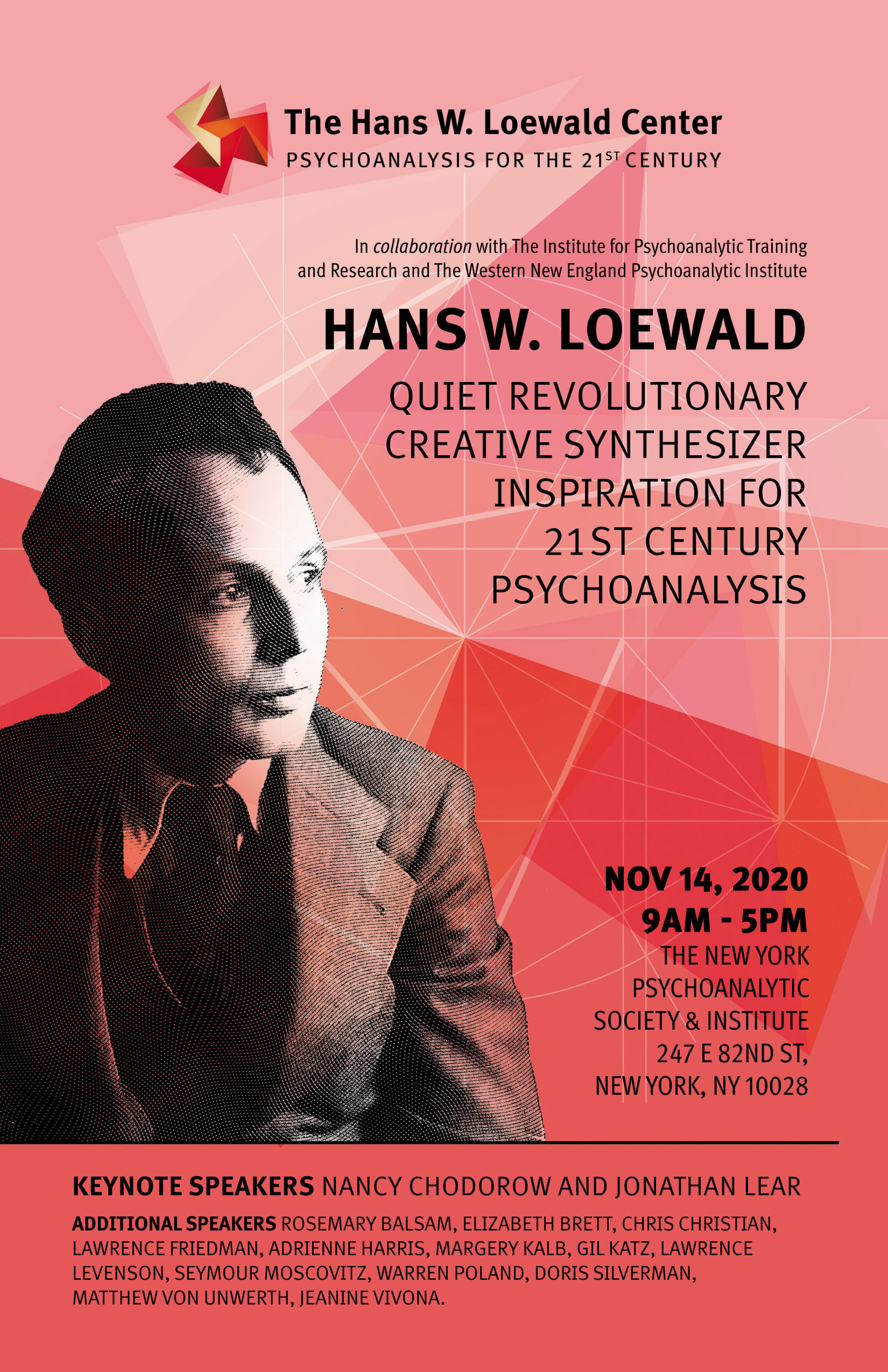 The Hans W. 
Loewald

 Center

Founders: Margery Kalb, Gil Katz, Seymour Moscovitz.

Executive Board: Rosemary Balsam, Elizabeth Brett, Chris Christian, Margery Kalb, Gil Katz, Lawrence Levenson, Seymour Moscovitz, Doris Silverman, Matthew von Unwerth.

Advisory Board: Sheldon Bach, Alan Bass, Phyllis Beren, Nancy Chodorow, Steven Cooper, Simon Critchley, Andrew Druck, Caroline Loewald Farnham, Gerald Fogel, Lawrence Friedman, Adrienne Harris, Theodore Jacobs, Marsha Levy-Warren, Alfred Marguiles, Paolo Migone, Michael Moskowitz, Donna Orange, Warren Poland, Jeanine Vivona, Joel Whitebook.

Program Committee Chairs: Natasha Black, Barbara Marcus, Masha Mimran.
CE & CME Credits
IPTAR is a New York State approved provider of CE credits for Licensed Social Workers, Licensed Psychoanalysts, Licensed Creative Arts Therapists. 6 CE Credits will be granted to participants who have registered, have documented evidence of attendance of the entire program, and have completed the online evaluation form. Upon completion of the evaluation form, a Certificate of Completion will be emailed to all participants who comply with these requirements.