FRANCIS GRIER
BETRAYAL AND FORGIVENESS IN LIFE, PSYCHOANALYSIS AND MOZART
Inspired by three of Mozart's greatest operas, The Marriage of Figaro, Don Giovanni and Cosi fan tutte, Francis Grier, esteemed British psychoanalyst, will present an exploration of various psychoanalytic theories of betrayal and forgiveness as they play out on Mozart's operatic stage. According to Grier, it is well known that in the scene at the climax of Figaro, the Countess forgives her philandering Count. But the themes of betrayal and forgiveness are also major psychological drivers in the other two operas. Grier will elaborate on psychoanalytic theory's ambivalent relationship with forgiveness, ranging from theorists who consider it should play no part in psychoanalysis, being mainly an idealizing Christian import (Smith, Schafer), to theorists who take the opposite view (Lansky, Akhtar, Cavell, Bishop, Blass). Grier will then focus on the story of Oedipus, coming at the very different experiences of betrayal in the paranoid schizoid position and the depressive position (Steiner). He will also consider how one can see Oedipus's return to Thebes from his civilized life in Corinth as a journey to the place in the unconscious of raw, primal sexual love and hate. Ultimately, Grier will suggest that Mozart's operas, for all their sophisticated and cultured surface, similarly take not only their characters but also their audience on a journey to a Theban milieu of sex, love and hate. Grier will illustrate his ideas with plentiful video clips from the operas. These will bring home not only the extraordinary beauty and rapture of much of Mozart's greatest music, but they will fill out and make the psychological and psychoanalytic themes of betrayal and forgiveness emotionally and dramatically immediate.
Francis Grier is a Training Analyst and Supervisor of the British Psychoanalytical Society, and Associate Editor (UK) of the International Journal of Psychoanalysis, of which he is also the Editor-In-Chief Elect. He is also a couple psychotherapist. He works in private practice in London. He leads a seminar for the psychotherapists in the Fitzjohn's Unit in the Tavistock Clinic, which specializes in working psychoanalytically with patients who would not normally have access to psychoanalytic treatment. He leads the main Clinical Seminar in the Adult Psychoanalytic Training at the Tavistock Clinic. He has written and edited papers, chapters and two books on couple psychotherapy, including Oedipus and the Couple (2005, Karnac), and papers for the IJP on two Verdi operas (Rigoletto and La Traviata), on a gendered approach to Beethoven, on musicality in the consulting room, and on the music of the drives and perversions. Before training psychoanalytically, he was a professional musician. He gave the first ever solo recital at a Royal Albert Hall Proms concert in 1985, and in 2012 was awarded a British Composer Award.
Learning Objectives:
To conceptualize psychoanalytic theories of betrayal and forgiveness.
To apply these theories to three operas by Mozart.
To integrate the psychoanalytic exploration of Mozart with a re-examination of the myth of Oedipus.
Saturday, October 2nd, 2021 | 10:00am-1:00pm
via Zoom
Tickets
General: $100 includes 3 CE Credits
IPTAR Members: $75 includes 3 CE Credits
Candidates & Students: $25 includes 3 CE Credits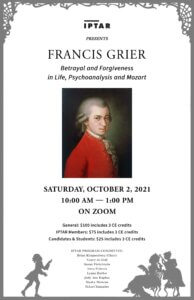 CE Credits for LCSW's, LP's, LCAT's, LMHC's and PSY's. (included in Fee for this event with pre-registration).
REGISTER
You must register on our Memberclick portal to buy tickets. Press the button to be redirected.
CE & CME Credits
IPTAR is a New York State approved provider of CE credits for Licensed Social Workers, Licensed Psychoanalysts, Licensed Creative Arts Therapists and Psychologists. 3 CE Credits will be granted to participants who have registered, have documented evidence of attendance of the entire program, and have completed the online evaluation form. Upon completion of the evaluation form, a Certificate of Completion will be emailed to all participants who comply with these requirements.