IPTAR PRESENTS  
Arts&Society and IPTAR-Q Invite you to an evening of performance and discussion: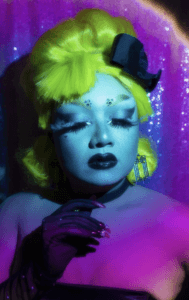 Psychoanalysis and Queer Performance Art
Performances by Emi Grate, The Illustrious Pearl and Uncle Freak
Followed by a panel discussion moderated by Eric Shorey with the performers, Annie Lee Jones and Anna Fishzon with audience Q&A wine and cheese reception
December 10th 2022, 5-7pm
The scope of psychoanalytic investigations into art is often limited to what is considered highbrow: opera, paintings, Greek tragedies — art forms imbued with cultural legitimacy and fortified by the support of wealthy institutions. Less investigated is so called lowbrow art, including but not limited to sports, video games, subcultures, and queer performance. If psychoanalysis were to investigate queer performance art — like drag — what could it potentially learn?

As theories about the function of kinship in the conscious and unconscious are just beginning to form, what social role does queer performance art play in creating a cultural or individual identity? To what extent are certain early childhood dynamics recapitulated in what is known as a drag family, and to what extent can queer family structures resist or be incorporated into our concepts of oedipality? How do queer people use drag to negotiate queer trauma, and to what extent can gender transgression be a source of pleasure rather than anguish?

Psychoanalysis has tended historically to think of gender non-conformity as a symptom of greater pathology. Some psychoanalytic institutes continue to teach that non-normative gender expression or presentation is a manifestation of "identity diffusion" or a sign of borderline organization. Perhaps drag offers a different way to think about gender diversity: not as an expression of conflict or evidence of a deficit but, rather, as a kind of sublimation or a kind of play.

Drag performance offers psychoanalysis an opportunity to think gender nonconformity anew, to de-pathologize queerness and move away from its assimilationist history. Looking at drag through a psychoanalytic lens in turn might inspire queer theorists and performers to explore the unconscious motivations of gender identities and queer cultural critique.

Program curated by Eric Shorey
2 CE credits
$50 general admission
$40 members
$25 candidates /students
Learning Objectives:
Participants will think critically about the diagnostic criteria and ideology behind "gender dysphoria"

Participants will learn about the cultural role played by nightlife in LGBTQ+ communities and consider the psychoanalytic implications of family rejection, anti-LGBTQ+ violence, and ostracization on members of said community

Participants will consider the history of psychoanalysis and its relation to assimilationism with regards to LGBTQ+ communities

Participants will learn about experiences of "gender euphoria" and the healing or therapeutic aspects of queer performance art
2 CE credits will be granted to participants who have registered, have documented evidence of attendance of the entire program and have completed the on-line evaluation form. Upon completion of the evaluation form a Certificate of Completion will be emailed to all participants who comply with these requirements.
REGISTER
You must register on our Memberclick portal to buy tickets. Press the button to be redirected.
The Institute for Psychoanalytic Training and Research (1651 3rd Ave, Suite 205, NY, NY 10128) is recognized by the New York State Education Department's State Board for Psychology as an approved provider of continuing education for Licensed Psychologists (#PSY-0026), and the State Board for Social Work as an approved provider of continuing education for Licensed Social Workers (#SW-0226) and the State Board for Mental Health Practitioners as an approved provider of continuing education for Licensed Psychoanalysts (#P-0011), Licensed Creative Arts Therapists (#CAT-0037) and Licensed Mental Health Counselors (#MHC-0112). This certificate is not applicable to any other New York State profession.