IPTAR PRESENTS
Ethics Course
Facilitated by: Brian Kloppenberg, LP
This course is required for all IPTAR candidates in the Adult Program who plan to take the LP.
It is open to all interested candidates.
There will be readings for the course that will be discussed on the 10th.
CE & CME Credits
IPTAR is a New York State approved provider of CE credits for Licensed Social Workers, Licensed Psychoanalysts, Licensed Creative Arts Therapists and Psychologists. 3 CE Credits will be granted to participants who have registered, have documented evidence of attendance of the entire program, and have completed the online evaluation form. Upon completion of the evaluation form, a Certificate of Completion will be emailed to all participants who comply with these requirements.
Saturday, July 10, 2021 | 1:00-4:00pm
via Zoom
Registration
$100 includes 3 CE credits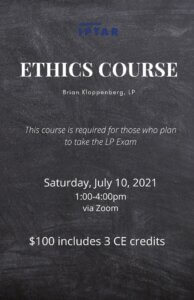 CE Credits for LCSW's, LP's, LCAT's, LMHC's and PSY's. (included in Fee for this event with pre-registration).
REGISTER
You must register on our Memberclick portal to buy tickets. Press the button to be redirected.